2018 Chancellor's Report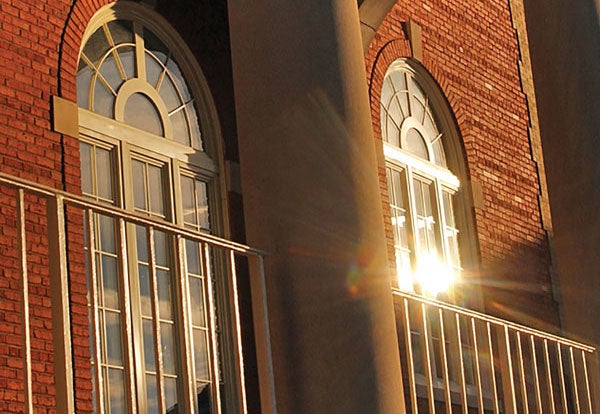 ECU's commitment to its students along with its service to the community have been consistently recognized among the best in the nation. From online coursework and study abroad to innovative ways to deliver care, ECU is committed to making education and health care accessible to all.
In 2018, ECU was recognized by U.S. News & World Report, the American Medical Association, the American Academy of Family Physicians, the North Carolina Academy of Family Physicians, the American Dental Education Association and others for:
Top-ranked online graduate programs in criminal justice, education, MBA and nursing, as well as online bachelor's programs
Transforming medical education and improving the health care system
Producing the highest percentage of family physicians of any medical school in North Carolina and the second highest in the nation
Providing practical experience for future dentists in innovative, patient-focused clinics across the state
Becoming a top university for international students
Increasing global awareness and understanding through study abroad
---
Read more: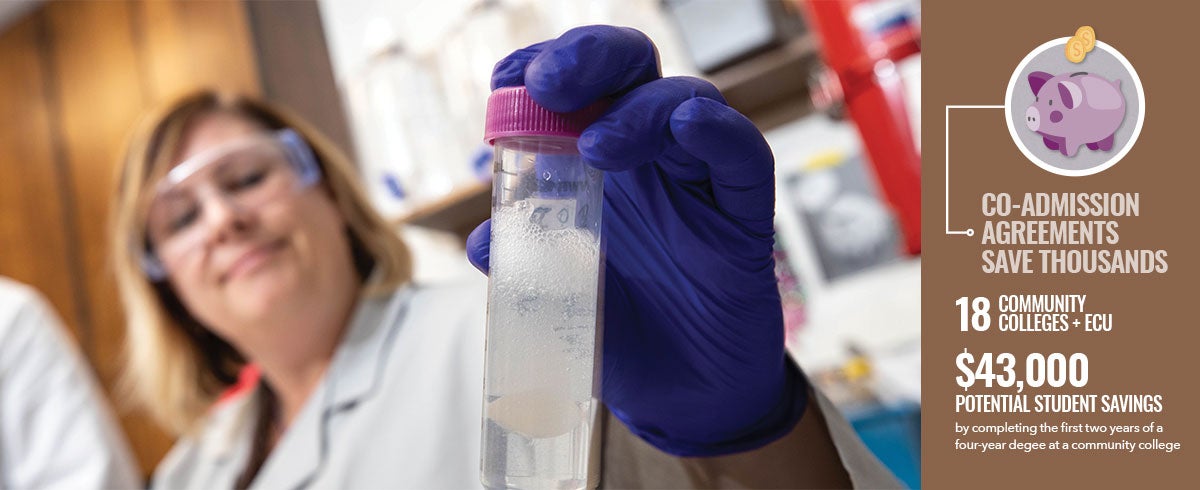 From classrooms and research labs to operating rooms and the coastline of Bermuda, ECU forged new grounds through research to address health issues of international concern, pioneered new medical techniques to treat a host of lifethreatening ailments, enjoyed progress in efforts to solve centuries-old mysteries and incorporated innovative programs to improve student access and success.
After potentially dangerous chemicals were found in the Cape Fear River, ECU researchers joined teams of researchers from institutions from around the state to determine the health effects of these types of chemical compounds.
ECU archaeologists working in partnership with the National Museum of Bermuda announced that they may be closer to linking an unidentified shipwreck site to the nearly 400-year-old story of a stranded Dutch privateer.
Surgeons from ECU remained at the forefront of bringing innovative techniques to the East, including being among the first in North Carolina to perform a procedure to treat achalasia, a rare disorder that restricts a person's ability to eat.
ECU also sought out new partnerships with surrounding institutions to improve student access and success, including a co-admission agreement with 18 community colleges that will enable students to seamlessly transition into degree-completion programs.
---
Read more: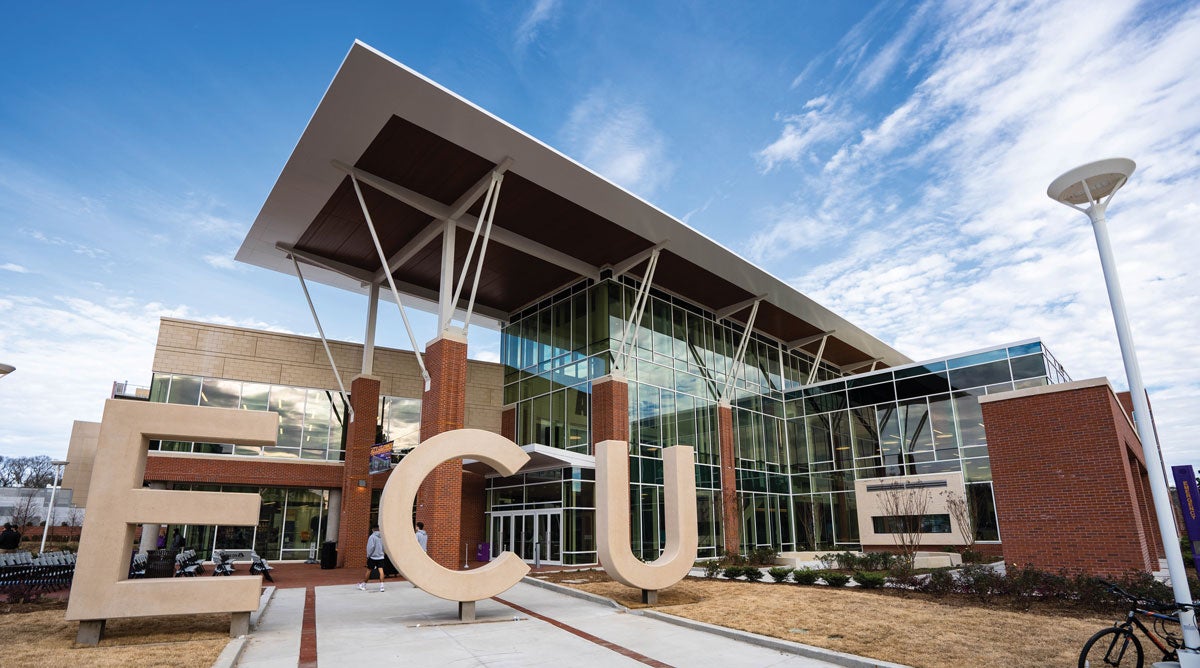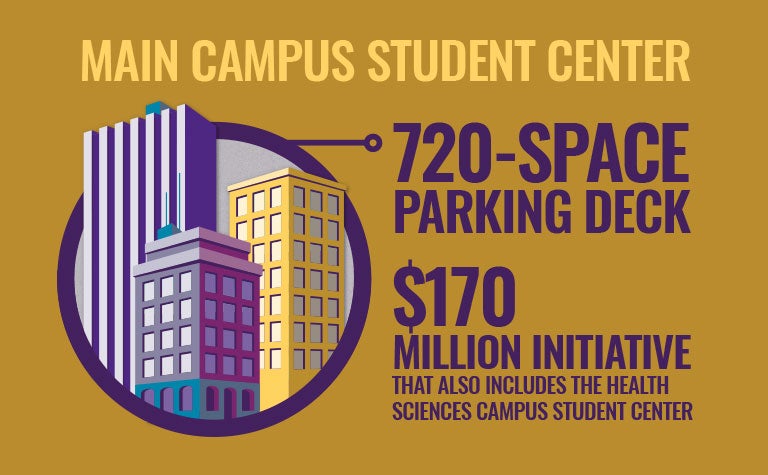 The university got a look at its new "living room" at the opening of the new Main Campus Student Center. Housing Dowdy Student Stores, campus offices and organizations, a food court and a 24-by-42 outdoor Pirate Vision digital screen, the new facility is "a game changer," said Dr. Virginia Hardy, vice chancellor for student affairs. "Trust me — our students are going to live in this space."
That's not all the growth at the university this year:
Construction continues on the $2.9 million new home for RESEARCH, ECONOMIC DEVELOPMENT AND ENGAGEMENT. The project is just one part of the enhanced effort by ECU to connect with the Greenville community.
Renovations are underway on the home of the Miller School of Entrepreneurship. THE VAN AND JENNIFER ISLEY INNOVATION BUILDING will provide space where students can collaborate on product innovation and entrepreneurship.
Construction on the new LIFE SCIENCES AND BIOTECHNOLOGY BUILDING is slated to begin in summer 2019. It will house state-of-the-art classrooms and labs for applied research in biology, chemistry and biomedical/process engineering.
The university renewed its commitment to coastal science by creating a new academic unit — INTEGRATED COASTAL PROGRAMS, encompassing the Department of Coastal Studies and the Coastal Studies Institute, located on Roanoke Island.
The UNC Board of Governors approved the university's plans to establish a new ECU SCHOOL OF RURAL PUBLIC HEALTH in August 2020 — only the second school devoted to public health in the state.
---
Read more: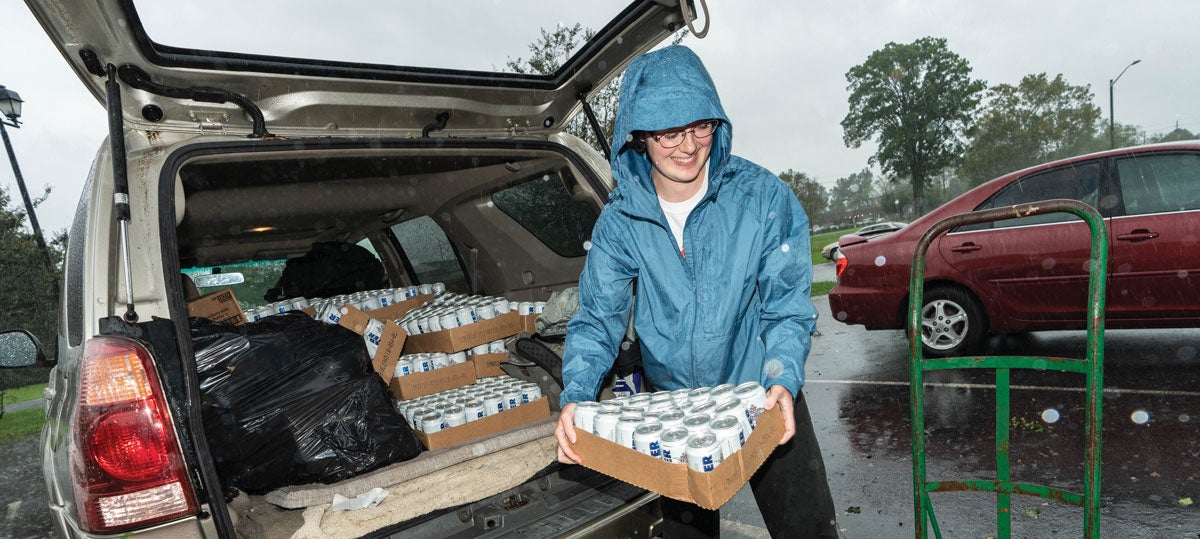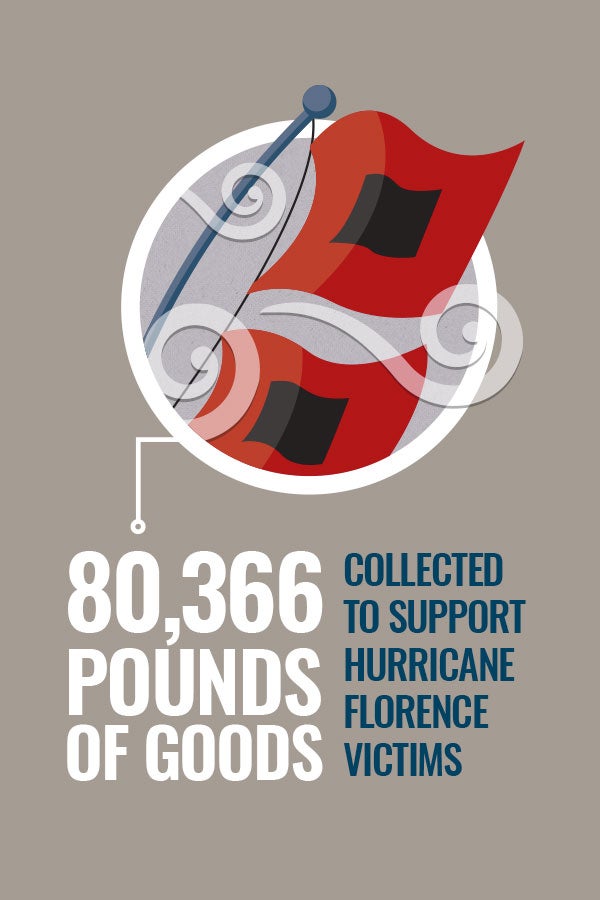 ECU's motto — Servire — was put into action this year. The university's service commitment was tested after Hurricane Florence tore through the region. Our Pirates answered the call and rallied to help eastern North Carolina by recording more than 5,000 service hours while raising $370,000 in hurricane relief donations. Take a look at other times this past year that Pirates helped others:
$24,000+ RAISED by ECU's Pirates vs. Cancer event to fund child life programs at Vidant Medical Center and national pediatric brain tumor research.
THE AVETT BROTHERS headlined a Hurricane Florence relief concert held at ECU's Minges Coliseum that raised $325,000 in relief aid.
DENTAL CARE FOR FORMER MILITARY MEMBERS was provided by ECU's Smiles for Veterans event, while other outreach programs provided general health, hearing and speech screenings to North Carolinians across the state.
FOOD INSECURE STUDENTS AND PATIENTS are provided nutritional meals at no cost at food pantries located on ECU's Main Campus and at the Brody School of Medicine.
---
Read more:
Hurricane Recovery:

ECU's Dowdy-Ficklen Stadium is undergoing a $60 million renovation to include a new club level, suites and loge boxes, a new press box and 1,000 premium seats. This state-of-the-art facility will generate additional revenue to reinvest in student-athletes and further enhance Pirate fans' game-day experience. Not only has the landscape changed, ECU's leadership in athletics has revealed some new faces to reignite the passion. Notable leaders taking the helm in athletics include the following:
DAVE HART, former ECU athletic director, has been named special advisor to the chancellor for athletics.
JOE DOOLEY, former ECU head men's basketball coach, returns for a second stint at the helm of the Pirates' program. Prior to returning to ECU, Dooley led Florida Gulf Coast to five conference titles and five consecutive 20-win seasons.
JON GILBERT has been named director of athletics at ECU. Gilbert had served as director at the University of Southern Mississippi since January 2017.
MIKE HOUSTON has been named head football coach at ECU. In a three-year tenure as head coach at James Madison University, Houston achieved successive NCAA FCS Championship Game appearances and one national title.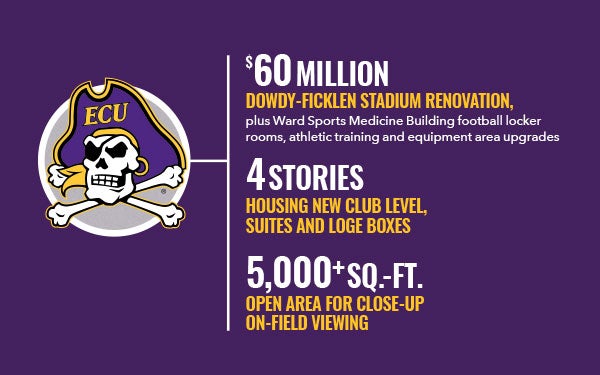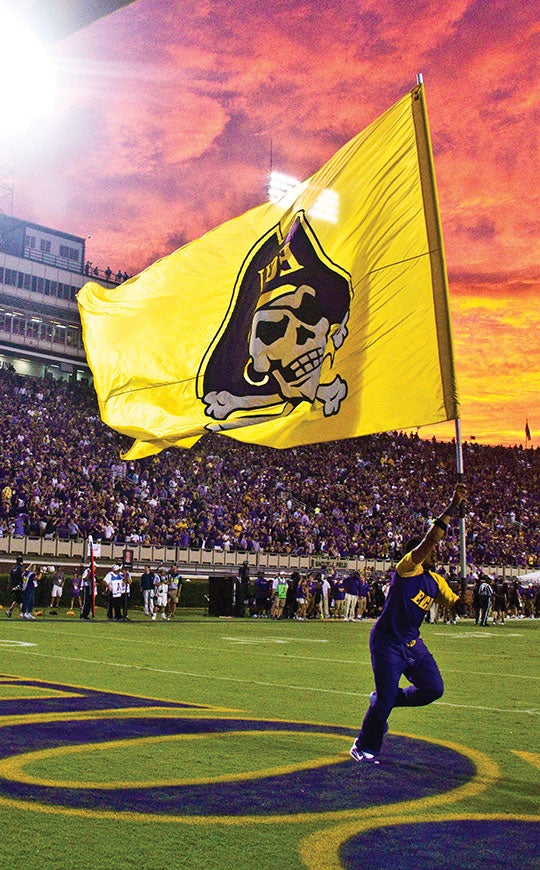 ---
Read more:

From the classroom to the community, the faculty, staff and students of ECU make their impact felt across eastern North Carolina and far beyond. They're fulfilling the promise to serve its communities while enhancing opportunities to better prepare students for life after graduation — all while building a strong national reputation of excellence.
Surgeons at the East Carolina Heart Institute at ECU have performed the first TCAR procedure, a new, less-invasive procedure to reduce stroke risk.
ECU's Center for Survey Research launched the national Life, Liberty and Happiness survey to take the pulse of the American public surrounding the nation's founding principles.
The university committed to a greener campus by adopting its first master plan for sustainability.
Dr. Mark Stacy will oversee the growth and advancement of the Division of Health Sciences as its new vice chancellor.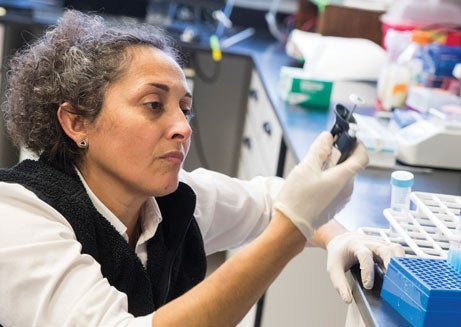 BEST INNOVATIONS IN SCIENCE AND MEDICINE
Dr. Jitka Virag wins national competition for pioneering heart disease research.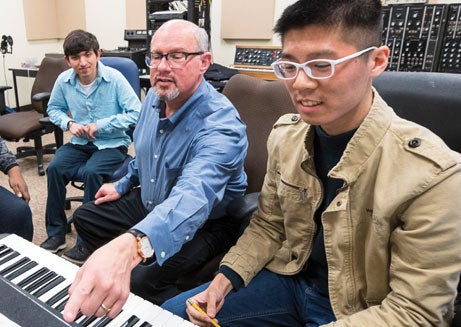 GUGGENHEIM FELLOWSHIP
Awarded to School of Music composition and theory professor Dr. Edward Jacobs.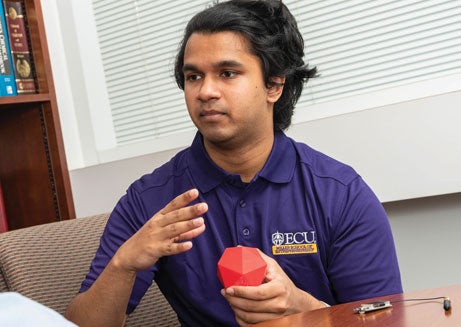 IBM'S FIRST GLOBAL CALL FOR CODE CHALLENGE
Alumnus Magus Pereira wins for using technology to improve natural disaster preparedness and relief.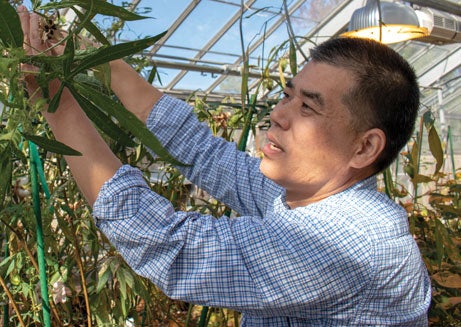 AMERICAN ASSOCIATION FOR THE ADVANCEMENT OF SCIENCE
Dr. Baohong Zhang named fellow for his contributions to plant science.
---
Read more: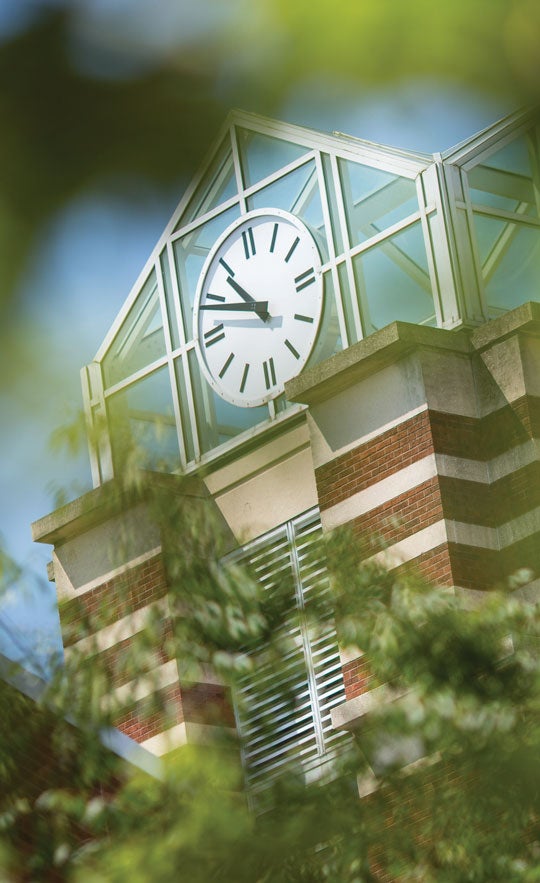 Donations and grants serve as infusions for scholarship and research and provide support for initiatives that allow ECU to remain at the highest level of innovation. Each gift received brings us one step closer to transforming our campus, cultivating scholars and revolutionizing research. Here are some of the ways these dollars fund the future for ECU, the state, the nation and beyond:
$210 MILLION
Amount raised for ECU's comprehensive fundraising campaign thus far, and the total continues to rise daily.
---
$9.7 MILLION
Grant from the U.S. Department of Education to study the link between school leadership and student learning, helping principals better support their teachers and ultimately improve student outcomes.
---
$5 MILLION
Anonymous gift to the BB&T Center for Leadership Development to support leadership opportunities across the university.
---
5-YEAR, $2.5 MILLION
Grant from the National Institutes of Health to Dr. Kym Gowdy to study how and why ground-level air pollution can cause a variety of health problems in hopes of decreasing the frequency of respiratory infections.
---
$1.38 MILLION
National grant awarded to Dr. Brandon Schultz to examine how a serious video game may help adolescents with ADHD learn academic coping skills.
---
1,000 NEW SCHOLARSHIPS
The Chancellor's Scholars Program will provide general scholarships to freshmen beginning in fall 2019, thanks to a $1 million gift from James and Connie Maynard and their daughter, Easter.
---
Read more: